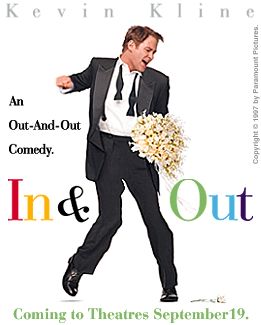 THIS WEEKEND Spending was extraordinarily heavy as four new films debuted in the top ten pushing older titles to the back of the line. Leading the way was the Kevin Kline comedy In & Out with a manly premiere of $15M landing it at number one. It becomes the second-biggest September opening weekend ever behind the $18.9M debut of The First Wives Club last year. Both comedies were produced by Scott Rudin and distributed by Paramount. A talented cast, good reviews, and superb marketing all contributed to the nation's rush to see Out. Also, the marketplace was in desperate need of a new comedy that delivered the goods. Laughers have been in short supply over the last two months and the timing was perfect for Out to be unleashed. In just three days, Out has outsold Kline's last film Fierce Creatures which grossed just $9.2M during its entire run last winter.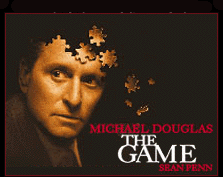 Slipping to second in its sophomore frame was The Game which suffered a drop of 37%, which is good, taking in $9M boosting its total to $28.3M. The Game had been the second-biggest September opening until In & Out's launch this weekend. After ten days, the Michael Douglas thriller looks like a sure bet to gross $50-60M - impressive for Polygram's first film. Coming in third was the Live Entertainment horror film Wishmaster with $6M. Playing in over 2,500 theaters, it was the widest release of this weekend's four new films. Like most films of the genre (with the exception of Scream), Wishmaster should die a quick death but be able to collect $15-18M before granting its last wish. It will have a more prolonged life on home video.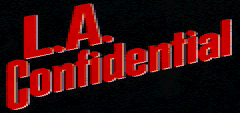 Opening in fourth and sixth places respectively were L.A. Confidential with $5.2M and A Thousand Acres with $2.9M. Confidential played in less than 800 theaters and registered a powerful per-screen average of $6,777, second only to In & Out's $7,540 average. Reviews for Confidential have been universally positive which should result in a strong buzz among moviegoers. Add in its expansion of screens in the coming weeks of release and Confidential is likely to exhibit a long lucrative run at the box office. For a review, visit Sujit Chawla's Movie Review Page. Acres, however, suffered from bad reviews and couldn't even utilize the starpower of Michelle Pfeiffer and Jessica Lange to post a strong opening weekend.
Even though these new releases commanded the attention of audiences, it did not lead to steep declines for the rest of the top ten. In fifth place was the british comedy The Full Monty which expanded its release to 648 theaters and gained about 4% to $3M. G.I. Jane and Money Talks continued to perform well slipping 32% each. Air Force One, in its ninth weekend in the top ten, dipped by just 26% but Fire Down Below sank 52% to tenth place. In its tenth week of release, George of the Jungle became the tenth film of the year to cross the $100M barrier. Together the top ten grossed $49.5M. Outside of four-day Labor Day weekends, this has never been achieved in September and showed that the market will expand, even in historically low-grossing months, to accommodate good product. Next weekend's launch of The Peacemaker should help September set a new box office record.
Compared to my projections, In & Out's $15M gross far outperformed the $9M I was expecting. I knew that it would have a fantastic opening, but underestimated the drawing power of Kevin Kline and the appetite for a new comedy. Wishmaster's $6M opening was a little better than my $5M prediction. L.A. Confidential's $5.2M was very close to my $6M projection while my forecast of $7M for A Thousand Acres was far too optimistic as it made less than half of that amount. For Acres, I felt that its starpower would lead to heavy sales during its first frame.
For a wrapup of the summer, be sure to check The Top 30 Films of the Summer 1997 Box Office Season.
Overall, the top ten films grossed $49.5M which was up 12% from last year and up 21% from 1995. Below are final studio figures for the weekend. Click on the title to jump to its official home page:
| | | | | | | |
| --- | --- | --- | --- | --- | --- | --- |
| # | Title | Sep 19 - 21 | Sep 12 - 14 | % Chg. | Weeks | Cumulative |
| | | | | | | |
| 1 | In & Out | $ 15,019,821 | | | 1 | $ 15,019,821 |
| 2 | The Game | 9,032,659 | 14,337,029 | -37.0 | 2 | 28,259,764 |
| 3 | Wishmaster | 6,038,516 | | | 1 | 6,038,516 |
| 4 | L.A. Confidential | 5,211,198 | | | 1 | 5,211,198 |
| 5 | The Full Monty | 3,022,096 | 2,914,175 | 3.7 | 6 | 10,254,090 |
| 6 | A Thousand Acres | 2,931,762 | | | 1 | 2,931,762 |
| 7 | G.I. Jane | 2,371,778 | 3,501,708 | -32.3 | 5 | 42,497,284 |
| 8 | Money Talks | 2,188,438 | 3,211,458 | -31.9 | 5 | 37,183,240 |
| 9 | Air Force One | 2,073,198 | 2,810,020 | -26.2 | 9 | 166,093,896 |
| 10 | Fire Down Below | 1,575,962 | 3,260,264 | -51.7 | 3 | 13,954,017 |
| | | | | | | |
| | | | | | | |
| | | | | | | |
| | Top 5 | $ 38,233,956 | $ 27,224,634 | 40.4 | | |
| | Top 10 | 49,465,428 | 38,503,336 | 28.5 | | |
---
This column is updated three times each week : Thursday (upcoming weekend's summary), Sunday (post-weekend analysis with estimates), and Monday night (actuals). Source : Variety, EDI.

Last Updated : September 22, 1997 at 10:00PM EST