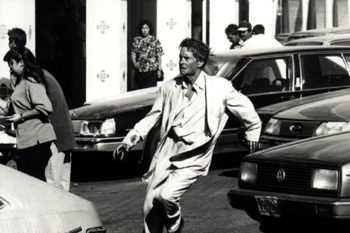 THIS WEEKEND Taking advantage of an open playing field, The Game powered its way to a muscular debut of $14.3M which makes it the second-biggest September opening ever after The First Wives Club's $18.9M debut last year. The $14.3M showing exceeded the opening weekend performance of director David Fincher's last film, 1995's Seven, which went on to gross $100M domestically and over $300M worldwide. For Michael Douglas, it was his biggest opening weekend since Basic Instinct which debuted to the sound of $15.1M over five years ago. And Polygram could not have asked for a better way to inaugurate their new film distribution arm. The Game benefited from a severe lack of competition as the other choices that audiences had were stale summer leftovers and the second session of the Steven Seagal flop Fire Down Below. This cleared the way for The Game, which itself was marketed superbly, to secure a massive amount of screens and command the attention of moviegoers.

Speaking with Bill Soady, president of distribution at Polygram Films, he stated that The Game played to the distributor's expectations. Polygram was "very satisfied" with the opening and it performed well in demographic groups across the board especially with young males. Of Polygram's maiden release Soady said "There is always pressure when releasing a film but we knew this was a great movie to start with." With good word-of-mouth, he expects The Game to continue to play strongly despite heavy competition in the weeks ahead.

The table below shows the box office performances of Michael Douglas films over the last 8 years:



| | | | |
| --- | --- | --- | --- |
| Title | Opening Gross | Total Gross | Release Date |
| | | | |
| The Ghost And The Darkness | $9.2M | $38.6M | Oct 96 |
| The American President | 10.0 | 60.0 | Nov 95 |
| Disclosure | 10.1 | 83.0 | Dec 94 |
| Falling Down | 8.7 | 40.9 | Feb 93 |
| Basic Instinct | 15.1 | 117.2 | Mar 92 |
| Shining Through | 6.4 | 21.4 | Jan 92 |
| The War of The Roses | 9.5 | 84.1 | Dec 89 |
| Black Rain | 9.7 | 45.9 | Sep 89 |
With a $14.3M take, The Game outperformed the next four films combined and accounted for 37% of all dollars spent on the top ten films. It also opened stronger than my projection of $12M. For a review, visit Sujit Chawla's Movie Review Page. Elsewhere in the top ten, Demi Moore's G.I. Jane stayed strong at number two with a $3.5M gross dipping 34% which was close to my projected 35% decline. Also as predicted, Steven Seagal's Fire Down Below fizzled dropping 46% to third place with a $3.3M gross bringing its 10-day total to $11.3M. Money Talks followed in fourth with $3.2M - down 35% as predicted. Expanding from 45 to 386 screens, The Full Monty scored a hefty $2.9M, or $7,550 per screen, to land at number five exceeding my projection of $2M.
Most other films saw small or average dropoffs as the top ten posted the second-lowest cumulative gross of the year with $38.5M. Spending its eighth session in the top ten, Air Force One dipped by just 27% upping its cume to $163.2M. Swinging into second-run theaters was Disney's George of the Jungle which returned to the top ten at number ten as it races to be the tenth release of the year to cross the $100M mark. It has grossed $98.6M to date.
For a wrapup of the summer, be sure to check The Top 30 Films of the Summer 1997 Box Office Season.
Overall, the top ten films grossed $38.5M which was up 16% from last year and up 25% from 1995. Below are final studio figures for the weekend. Click on the title to jump to its official home page:
| | | | | | | |
| --- | --- | --- | --- | --- | --- | --- |
| # | Title | Sep 12 - 14 | Sep 5 - 7 | % Chg. | Weeks | Cumulative |
| | | | | | | |
| 1 | The Game | $ 14,337,029 | | | 1 | $ 14,337,029 |
| 2 | G.I. Jane | 3,501,708 | 5,341,411 | -34.4 | 4 | 38,944,047 |
| 3 | Fire Down Below | 3,260,264 | 6,073,094 | -46.3 | 2 | 11,320,752 |
| 4 | Money Talks | 3,211,458 | 4,888,735 | -34.3 | 4 | 34,205,257 |
| 5 | The Full Monty | 2,914,175 | 769,954 | 278.5 | 5 | 6,012,944 |
| 6 | Air Force One | 2,810,020 | 3,861,490 | -27.2 | 8 | 163,224,275 |
| 7 | Hoodlum | 2,535,151 | 4,047,485 | -37.4 | 3 | 19,829,304 |
| 8 | Conspiracy Theory | 2,304,577 | 3,334,021 | -30.9 | 6 | 70,713,189 |
| 9 | Excess Baggage | 1,865,300 | 2,854,180 | -34.6 | 3 | 12,476,854 |
| 10 | George of the Jungle | 1,763,654 | 1,277,642 | 38.0 | 9 | 98,615,771 |
| | | | | | | |
| | | | | | | |
| | | | | | | |
| | Top 5 | $ 27,224,634 | $ 24,212,215 | 12.4 | | |
| | Top 10 | 38,503,336 | 37,641,254 | 2.3 | | |
---
This column is updated three times a week : Thursday (upcoming weekend's summary), Sunday (post-weekend analysis with estimates), and Monday night (actuals). Source : Variety, EDI.

Last Updated : September 15, 1997 at 9:15PM EST