DVD Review: All New Super Friends Hour Season 1 Volume 2
---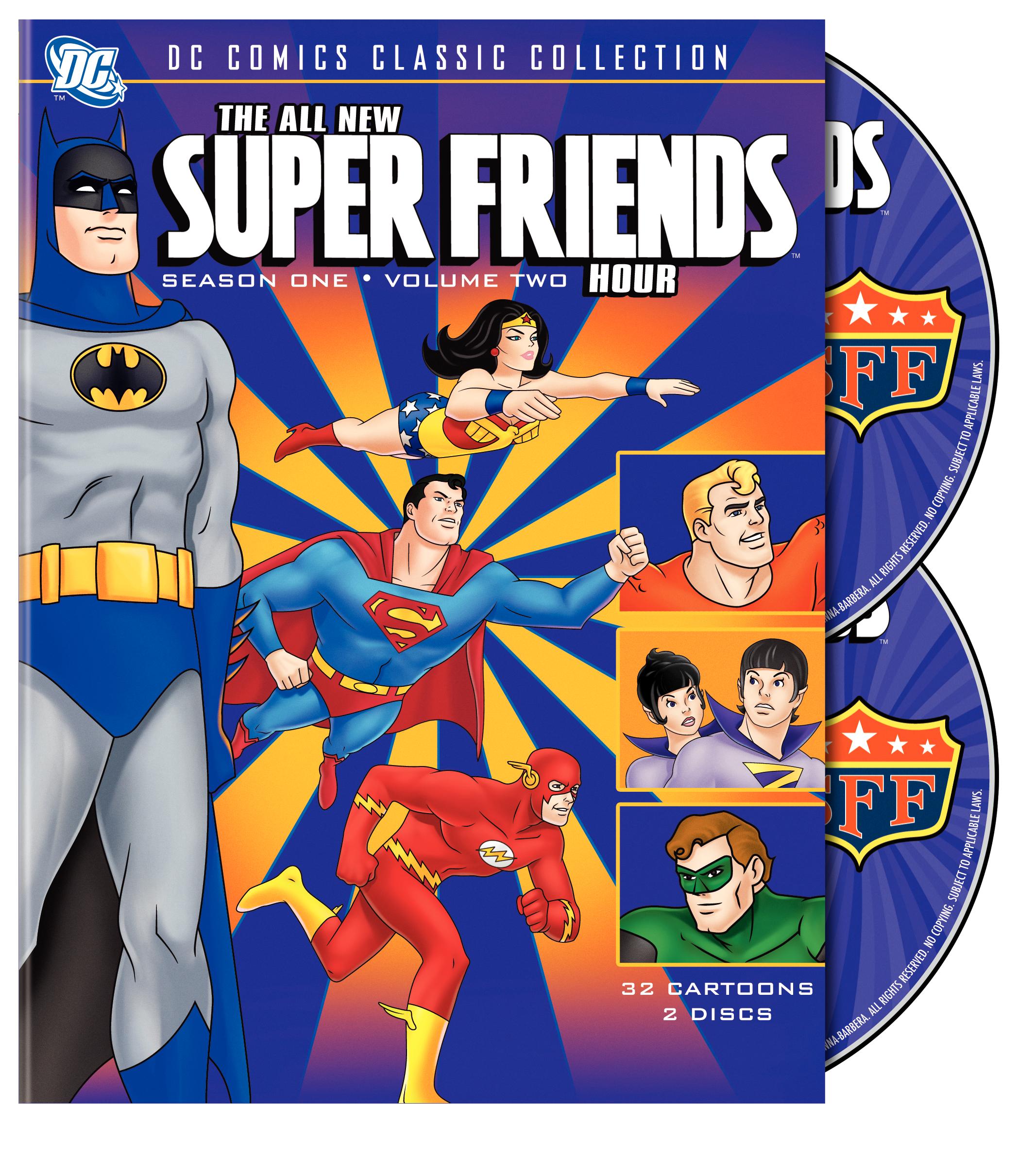 DVD Must-see TV for many kids growing up in the 1970s and 1980s was the Super Friends program every Saturday morning, no matter what form the show took. The many editions ranged from the supreme Challenge of the Super Friends which pitted the good guys against the swamp-dwelling Legion of Doom to the utterly ridiculous Super Powers Team featuring the villain Darkseid and the annoying teen hero Firestorm. But in between was The All New Super Friends Hour, now available in a 2-disc set, which nicely saw our gang of titans take on four capers in every hour-long episode. The Season 1 Volume 2 set contains eight episodes totaling 32 cartoons and follows up Volume 1 which was released just over a year ago.
The formula was easy to follow. Each episode starts with a standard adventure featuring many of the most popular DC Comics characters including Superman, Batman, Robin, Wonder Woman, and Aquaman. The second story finds the Wonder Twins Zan and Jayna (and their space monkey Gleek) helping teenagers deal with tough issues like hitchhiking, peer pressure, cheating, and lying. Yes these are cringe-worthy when watched today, but back in the day they taught valuable lessons to a nation of youngsters wanting to activate their own Wonder Twin powers. The two replaced teen sleuths Wendy and Marvin from earlier editions of the cartoon.
Two more tales cap off each episode with 'special guests' getting involved in the action. This is where the Super Friends would chum up with their ethnic buddies like Samurai, Apache Chief, or Black Vulcan. These super heroes of color played a bigger role in Challenge of the Super Friends as did Green Lantern, Hawkman, and Flash. Interspersed in each episode are various safety tips, magic tricks, and arts and crafts assignments. Making a phone with two tin cans and a string seemed hi-tech at the time.
There is not much here in terms of extras which is unfortunate. A missed opportunity indeed. Disc Two houses the Special Features which include a documentary called The Wonder Twins Phenomenon plus two trailers. The doc is entertaining with a comical look at the genesis of the characters and their impact on pop culture. Why did they mostly just turn into an eagle and water all the time? And how convenient that Gleek just happened to have a bucket everywhere he went. Aside from the Smurfs trailer there is a preview for the DVD set of Challenge, albeit with a different voiceover artist which is highly distracting. But that trailer reminds you how a Super Friends DVD set really can be packed with interesting extras that fans would love.
Surely nostalgia is the primary reason to pick up this DVD set or even to give it as a gift. It brings back great memories from that era, even if many of the stories didn't stand the test of time. Challenge, which is also available on DVD, is the best title but for those who already own it, The All New Super Friends Hour makes a nice companion piece.
Amazon.com - Order DVD sets of the All New Super Friends Hour Season 1 (Volume 2 or Volume 1) and Challenge of the Super Friends
---
©2009 Box Office Guru