DVD Review: Jake and the Never Land Pirates
---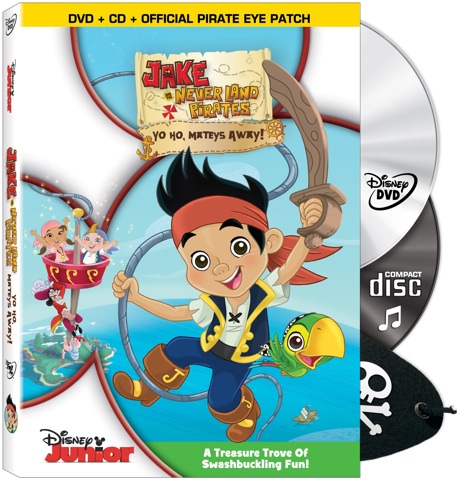 It's the #1 cable series for boys 2-5 and now it comes home in its first DVD title, Jake and the Never Land Pirates: Yo Ho, Mateys Away!. The hit show from Disney Junior, aimed at the lucrative pre-school audience that Nick Jr. has such a stranglehold on, is a spin-off from the Peter Pan franchise and features three young pirates - led by Jake, of course - who go on various adventures looking for treasure. Along the way they face the sinister Captain Hook and his gang who try to take away Jake's precious object-of-the-episode only to eventually give it back while learning a lesson. For young children first discovering the magnetic power of television, Jake is harmless fun filled with adventure, singing, and slapstick comedy. Many other shows aimed at this age group are more educational, but this one is certainly not one to rot young minds.
The new Jake DVD comes with seven full episodes - each with two stories - plus a CD featuring music from the show and a generic-looking pirate eye patch. The CD is not the official 18-song soundtrack but a 7-song sampler with comical tunes by Sharky and Bones of The Never Land Pirate Band, the group that is featured at the end of each episode. They've been making pirate rock for kids for over a decade so they could be considered the Bono and The Edge of this genre. With a $19.99 retail price, the DVD is a nice package of goodies for fans of the show but those with children that truly enjoy the pirate music may want to pick up the official CD soundtrack with the full selection of tracks.
To date, 21 episodes of Jake and the Never Land Pirates have aired so this collection only covers one-third of the series. Pre-schoolers not familiar with the show are likely to get sucked in as the entertainment is easily digestible. The DVD includes only two bonus features - the 5-minute "Yo Ho, You Want To Be A Pirate?" where Jake teaches viewers how to talk like a pirate, and the more amusing "Pirate Party With Pirate-oke," an 11-minute collection of music videos performed by Sharky and Bones that lets kids sing along with the catchy tunes like "Hot Lava" and "Aw, Coconuts". Karaoke-style lyrics appear at the bottom of the screen throughout each song.
DVD Title: Jake and the Never Land Pirates: Yo Ho, Mateys Away!
Review by Gitesh Pandya
Run Time: 160 minutes
Walt Disney Studios Home Entertainment
NOW AVAILABLE
---
©2011 Box Office Guru