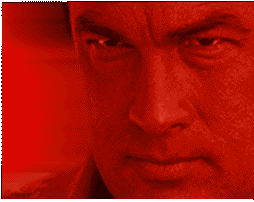 THIS WEEKEND Thanks to a weak marketplace, Steven Seagal was able to claim the number one spot for the first time in over three years as Fire Down Below collected $6.1M over the post-Labor Day frame. His last film to debut at the top was during the weekend of February 18-21, 1994 when On Deadly Ground bumped Ace Ventura: Pet Detective out of the number one slot. Warner Bros. will be able to use the line "Number One Movie in America" in its advertisements for the rest of the week but it won't help their action picture become a hit. Although it is the box office leader, Fire posted the weakest #1 debut of any film this year and second lowest weekend gross for a #1 film in 1997 (Jerry Maguire led the weekend box office over the January 24-26 period with $5.5M in its seventh weekend of release). The last film to open at number one with a smaller amount was nearly a year ago when Maximum Risk, starring Jean-Claude Van Damme, collected $5.6M over the September 13-15, 1996 frame.

Seagal's popularity is steadily declining, as evidenced by the paltry opening of Fire Down Below. His last three films have achieved an average 30.2% of their total gross over the opening weekend. At the same rate, Fire will eventually top off at $20M. However, if it follows the path of his last film The Glimmer Man, Fire will end up with less than $17M and become the lowest-grossing film of Seagal's career making less than the $18.9M that Above The Law collected in 1988. This is nothing but bad news for Seagal. The table below follows the box office performances of his films during this decade:



| | | | |
| --- | --- | --- | --- |
| Title | Opening Gross | Total Gross | Release Date |
| | | | |
| The Glimmer Man | $7.6M | $20.4M | Oct 96 |
| Under Siege 2 | 12.6 | 50.0 | Jul 95 |
| On Deadly Ground | 12.7 | 38.6 | Feb 94 |
| Under Siege | 15.8 | 83.6 | Oct 92 |
| Out For Justice | 10.5 | 39.6 | Apr 91 |
| Marked For Death | 11.8 | 43.2 | Oct 90 |
| Hard To Kill | 9.2 | 47.4 | Feb 90 |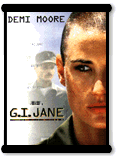 The rest of the top ten featured large dropoffs from the four-day holiday weekend. G.I. Jane slipped one notch to second with $5.3M bringing its 17-day total to a decent $33.6M. It should be able to reach the $50M mark before being discharged from the service. Money Talks was third with a $4.9M take followed by Hoodlum's $4M. Air Force One rounded out the top five with $3.9M bringing its total to $159.3M. In its sophomore outing, Excess Baggage tumbled to seventh place with less than $2.9M. Cop Land and Mimic once again had large dropoffs near 55% showing no signs of longevity. Continuing to fight the scum of the universe was Men in Black which still made the top ten in its tenth weekend of release. MIB has the longest run in the nation's top ten since Liar, Liar spent 13 weekends there.
Outside of the top ten, Con Air crossed the $100M mark on Saturday - exactly three months after its release date. The leading titles in limited release continued to be The Full Monty with a $17,110 per-screen average ($2.7M to date), In the Company of Men with an average of $2,770 ($2M to date), and Shall We Dance? with a $2,683 average and a $5.9M total so far. In worldwide box office news, The Lost World has crossed the $500M mark and Men in Black will soon race across $400M (see International).
The $6.1M opening of Fire Down Below was on track with my projection of $6M. Jane and AFO dropped harder than I thought while Money Talks came close to my guess of $5.2M.
Overall, the top ten films grossed $37.6M which was up 5% from last year and up 10% from 1995. Below are final studio figures for the weekend. Click on the title to jump to its official home page:
| | | | | | | |
| --- | --- | --- | --- | --- | --- | --- |
| # | Title | Sep 5 - 7 | Aug 29 - Sep 1 | % Chg. | Weeks | Cumulative |
| | | | | | | |
| 1 | Fire Down Below | $ 6,073,094 | | | 1 | $ 6,073,094 |
| 2 | G.I. Jane | 5,341,411 | 10,282,285 | -48.1 | 3 | 33,608,732 |
| 3 | Money Talks | 4,888,735 | 9,447,066 | -48.3 | 3 | 29,863,661 |
| 4 | Hoodlum | 4,047,485 | 8,162,768 | -50.4 | 2 | 15,886,341 |
| 5 | Air Force One | 3,861,490 | 8,520,110 | -54.7 | 7 | 159,262,854 |
| 6 | Conspiracy Theory | 3,334,021 | 6,853,154 | -51.4 | 5 | 67,354,774 |
| 7 | Excess Baggage | 2,854,180 | 6,309,583 | -54.8 | 2 | 10,033,595 |
| 8 | Mimic | 2,815,405 | 6,180,990 | -54.5 | 3 | 20,812,711 |
| 9 | Cop Land | 2,622,136 | 5,784,542 | -54.7 | 4 | 39,748,629 |
| 10 | Men in Black | 1,803,297 | 3,355,069 | -46.3 | 10 | 237,311,281 |
| | | | | | | |
| | | | | | | |
| | | | | | | |
| | Top 5 | $ 24,212,215 | $ 43,265,383 | -44.0 | | |
| | Top 10 | 37,641,254 | 68,345,712 | -44.9 | | |
---
This column is updated three times a week : Thursday (upcoming weekend's summary), Sunday (post-weekend analysis with estimates), and Monday night (actuals). Source : Variety, EDI.

Last Updated : September 9, 1997 at 12:30PM EST