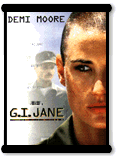 THIS WEEKEND With the closing of the summer, moviegoers preferred to catch up on existing titles instead of trying new movies. G.I. Jane led the holiday brigade with $10.3M over the four-day period. That's a drop of just 26% when comparing the three-day performance to its opening last weekend. This is certainly good news for Demi Moore and Disney, its distributor, since it did not depreciate the way many had thought it would have. Retaining second place was the Chris Tucker comedy Money Talks collecting $9.4M over the four-day weekend. The results for Money were also very positive as it came close to being the nation's top film two weekends in a row.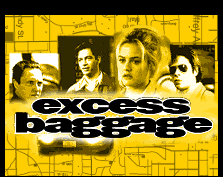 Three new releases were sprinkled throughout the top ten with Hoodlum leading the way with $8.1M over the four-day weekend. That brings its total since Wednesday's opening to $10.2M in six days. Alicia Silverstone's new movie Excess Baggage did not fare well with back-to-school shoppers as it collected just $6.3M over the four-day period. Her last solo outing was Clueless which opened to $10.6M in July 1995 and went on to gross $54.8M. Baggage clearly was hurt by the extemely late release date as it missed the prime period when its target audience consumes the most movies. An early August opening could have made a huge difference in box office returns. Other new films included Kull the Conqueror which opened to $3.5M over four days and She's So Lovely which debuted just outside of the top ten with $3M on 824 screens. Hoodlum's opening was on par with my projection of $8M while Baggage's debut was not as strong as my $9M forecast. Kull's gross was weaker than my $6M guess and holdovers performed better than I expected.
Holdovers performed well as Air Force One and Men in Black, the biggest movies of July and August respectively, had solid weekends as moviegoers were catching up on the blockbusters. AFO remained in third place and has grossed $154.2M as it enters its sixth week of release. Conspiracy Theory held on to the number five position with a 6% decline. Audiences were less kind to sophomore Mimic and Stallone's Cop Land which suffered the largest losses in the top ten, despite the increased holiday spending.
Overall, the top ten films grossed $68.4M over the four-day period which is 37% better than last year's Labor Day weekend and 27% better than 1995's results. Below are final studio figures for the four-day holiday weekend. Click on the title to jump to its official home page.
| | | | | | | |
| --- | --- | --- | --- | --- | --- | --- |
| # | Title | Aug 29 - Sep 1 | Aug 22 - 24 | % Chg. | Weeks | Cumulative |
| | | | | | | |
| 1 | G.I. Jane | $ 10,300,000 | $ 11,094,241 | -7.2 | 2 | $ 26,300,000 |
| 2 | Money Talks | 9,400,000 | 10,654,369 | -11.8 | 2 | 23,700,000 |
| 3 | Air Force One | 8,500,000 | 7,870,403 | 8.0 | 6 | 154,200,000 |
| 4 | Hoodlum | 8,100,000 | | | 1 | 10,200,000 |
| 5 | Conspiracy Theory | 6,900,000 | 7,355,476 | -6.2 | 4 | 63,000,000 |
| 6 | Excess Baggage | 6,300,000 | | | 1 | 6,300,000 |
| 7 | Mimic | 6,200,000 | 7,818,208 | -20.7 | 2 | 16,900,000 |
| 8 | Cop Land | 5,800,000 | 7,318,628 | -20.8 | 3 | 3,600,000 |
| 9 | Kull The Conqueror | 3,500,000 | | | 1 | 3,500,000 |
| 10 | Men in Black | 3,400,000 | 2,881,113 | 18.0 | 9 | 235,100,000 |
| | | | | | | |
| | | | | | | |
| | | | | | | |
| | Top 5 | $ 43,200,000 | $ 44,792,697 | -3.6 | | |
| | Top 10 | 68,400,000 | 65,746,855 | 4.0 | | |
---
This column is updated three times a week : Thursday (upcoming weekend's summary), Sunday (post-weekend analysis with estimates), and Monday night (actuals). Source : Variety, EDI.

Last Updated : September 3, 1997 at 6:00PM