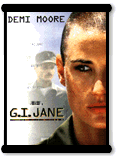 THIS WEEKEND In a close race for the top spot, G.I. Jane, starring Demi Moore, defeated Money Talks, starring Chris Tucker and Charlie Sheen, in hand-to-hand combat with an opening weekend gross of $11.1M edging out the $10.7M debut for the New Line comedy. Initial studio estimates had the two films in a tie for first but final figures released Monday evening showed that Moore was the commanding officer at the box office. For Moore, the performance of Jane was below the $12.3M which her last film Striptease collected during its opening frame in June 1996. The opening was not bad, but the chances of Jane being a big hit are slim as it will probably end up with about $35-40M after its run.

New Line must be extremely happy with the grosses for Money Talks. After costarring with Ice Cube in 1995's Friday, Chris Tucker got to showcase his comedic talents in Money and audiences responded with an overwhelming turnout. Few expected it to open so powerfully and Tucker's career will get a big boost after this weekend. The $10.7M opening is also close to the $11.6M opening of this summer's similarly-themed Nothing to Lose which starred Martin Lawrence and Tim Robbins.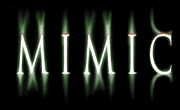 Meanwhile, the science-fiction horror film Mimic with Mira Sorvino opened in fourth place with a $7.8M take. Universal's Leave it to Beaver was largely ignored with only $3.3M while Masterminds starring Patrick Stewart fared even worse as it opened below the top ten with $1.3M. Other openings in an overcrowded weekend were A Smile Like Yours starring Greg Kinnear and Lauren Holly which took in about $1.2M and the tenth anniversary rerelease of Dirty Dancing which collected $200,000 in just 45 theaters for a not-bad average of $4400 per location. Compared to my projections, G.I. Jane was better than my $9M pick, Money Talks more than doubled my $5M guess, Mimic was on par with my forecast of $8M, and Beaver and Masterminds both struckout as predicted.
Holdovers had mixed results as last weekend's top film Cop Land took a Rodney King beating plunging 46% to $7.3M. Air Force One continued its superb box office run slipping 36% to $7.9M and fell a notch to third place with $143.1M to date. Conspiracy Theory dropped 40% and slipped to fifth with a $7.4M tally. The biggest drop was by Event Horizon which came crashing back to Earth with a 54% decline in its sophomore session. Men in Black, in its eighth weekend in the top 10, suffered the smallest decline losing less than 32% and now stands as the highest-grossing film of 1997 with $230.5M.
Overall, the top ten films grossed about $65.7M - up 28% from last year and up 25% from 1995. Below are final studio figures. Click on the title to jump to its official home page.
| | | | | | | |
| --- | --- | --- | --- | --- | --- | --- |
| # | Title | Aug 22 - 24 | Aug 15 - 17 | % Chg. | Weeks | Cumulative |
| | | | | | | |
| 1 | G.I. Jane | $ 11,094,241 | | | 1 | $ 11,094,241 |
| 2 | Money Talks | 10,654,369 | | | 1 | 10,654,369 |
| 3 | Air Force One | 7,870,403 | 12,350,122 | -36.3 | 5 | 143,092,008 |
| 4 | Mimic | 7,818,208 | | | 1 | 7,818,208 |
| 5 | Conspiracy Theory | 7,355,476 | 12,309,562 | -40.2 | 3 | 53,461,107 |
| 6 | Cop Land | 7,318,628 | 13,510,482 | -45.8 | 2 | 27,422,053 |
| 7 | Event Horizon | 4,357,366 | 9,511,915 | -54.2 | 2 | 17,793,622 |
| 8 | Leave it to Beaver | 3,252,450 | | | 1 | 3,252,450 |
| 9 | George of the Jungle | 3,144,601 | 4,813,639 | -34.7 | 6 | 90,531,749 |
| 10 | Men in Black | 2,881,113 | 4,204,505 | -31.5 | 8 | 230,502,569 |
| | | | | | | |
| | | | | | | |
| | | | | | | |
| | Top 5 | $ 44,792,697 | $ 52,668,955 | -15.0 | | |
| | Top 10 | 65,746,855 | 70,473,999 | -6.7 | | |
---
This column is updated three times a week : Thursday (upcoming weekend's summary), Sunday (post-weekend analysis with estimates), and Monday night (actuals). Source : Variety, EDI.

Last Updated : August 25, 1997 at 9:00PM