THIS WEEKEND After a three year absense, Sylvester Stallone returned to the number one spot at the nation's box office with Cop Land which took in $13.5M over the weekend. Edging out holdovers Air Force One and Conspiracy Theory, Cop Land registered the biggest opening weekend for its distributor Miramax beating the $11.8M opening of The Crow in May 1994. Playing in over 2,200 theaters, it was also the second widest release for the House of Weinstein after The Crow : City of Angels which was let loose in over 2,400 theaters in 1996. Overall, it was a solid debut for a promising action-drama which was the first number one debut for Stallone since The Specialist in 1994. Reviews have generally been positive which should make Cop Land a strong performer during the final weeks of the summer. The table below shows the performances (in millions of dollars) of Stallone's last six films:
| | | | |
| --- | --- | --- | --- |
| | Opening Gross | Total Gross | Release Date |
| | | | |
| Daylight | 10.0 | 32.9 | Dec 1996 |
| Assassins | 9.4 | 30.3 | Oct 1995 |
| Judge Dredd | 12.3 | 34.7 | Jun 1995 |
| The Specialist | 14.3 | 57.4 | Oct 1994 |
| Demolition Man | 14.3 | 58.1 | Oct 1993 |
| Cliffhanger | 20.5 | 84.0 | May 1993 |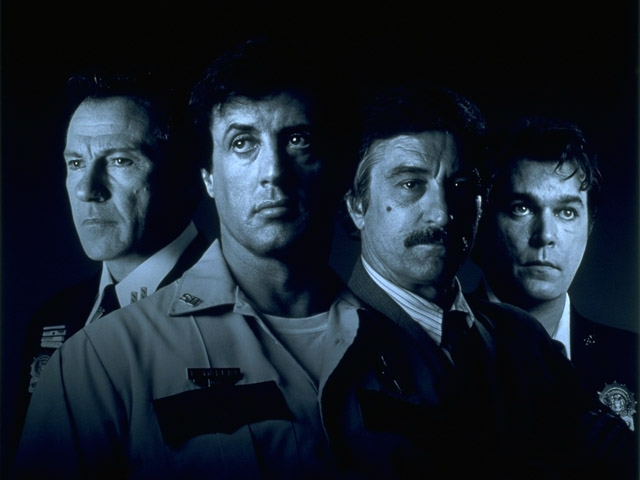 The $13.5M opening for Cop Land was close to my $12M prediction. Air Force One remained in second dropping 31% to $12.4M which was a little more than my guess of $12.3M. The Harrison Ford actioner remains on its blockbuster course with over $130M to date. After 24 days of release AFO is running 12% ahead of the pace of 1993's The Fugitive which eventually grossed $183.9M. Last weekend's top movie Conspiracy Theory dropped by 36%, which is normal, to third with $12.3M - close to my forecast of $12.5M. Its ten-day total now stands at $40.7M. With an unusually high number of A-list stars with movies in August, the box office is ending another summer in record territory. Three films grossed over $10M this weekend which is rare for August. The last such August occurance was during the weekend of August 12-14, 1994 when Clear and Present Danger, Forrest Gump, and The Mask all hit double-digits.
Opening in fourth was Event Horizon with $9.5M. The Laurence Fishburne sci-fi film had a wide release and delivered a very good opening for Paramount which claims Face/Off as its only big hit of the summer season. Science-fiction films usually erode quickly so look for Horizon to reach a total gross of about $30M. With about $9.5M, its opening was much better than the $7M I predicted.
Dropping a mighty 44% to fifth was Spawn which passed the $46M mark. George of the Jungle and Men in Black performed extremely well as each dipped by less than 26%. MIB is now within $1M of overtaking The Lost World as the top-grossing picture of the summer. The weekend's only other wide release, Steel starring Shaquille O'Neal, melted as it collected less than $1M. For Warner Bros., it was their third straight disaster after last weekend's Free Willy 3, and 187 which opened the weekend before that.
Overall, the top ten films grossed $70.5M - up 29% from last year and up less than 1% from 1995. Below are final studio figures. Click on the title to jump to its official home page.
| | | | | | | |
| --- | --- | --- | --- | --- | --- | --- |
| # | Title | Aug 15 - 17 | Aug 8 - 10 | % Chg. | Weeks | Cumulative |
| | | | | | | |
| 1 | Cop Land | $ 13,510,482 | | | 1 | $ 13,510,482 |
| 2 | Air Force One | 12,350,122 | 17,827,096 | -30.7 | 4 | 130,353,620 |
| 3 | Conspiracy Theory | 12,309,562 | 19,313,565 | -36.3 | 2 | 40,668,584 |
| 4 | Event Horizon | 9,511,915 | | | 1 | 9,511,915 |
| 5 | Spawn | 4,986,874 | 8,949,953 | -44.3 | 3 | 46,650,381 |
| 6 | George of the Jungle | 4,813,639 | 6,316,178 | -23.8 | 5 | 84,580,796 |
| 7 | Men in Black | 4,204,505 | 5,652,350 | -25.6 | 7 | 225,304,729 |
| 8 | Picture Perfect | 3,322,480 | 5,004,163 | -33.6 | 3 | 23,739,190 |
| 9 | Contact | 2,872,875 | 4,478,753 | -35.9 | 6 | 88,581,422 |
| 10 | Air Bud | 2,591,545 | 3,544,695 | -26.9 | 3 | 17,150,084 |
| | | | | | | |
| | | | | | | |
| | | | | | | |
| | Top 5 | $ 52,668,955 | $ 58,059,142 | -9.3 | | |
| | Top 10 | 70,473,999 | 78,052,158 | -9.7 | | |
---
This column is updated three times a week : Thursday (upcoming weekend's summary), Sunday (post-weekend analysis with estimates), and Monday night (actuals). Source : Variety, EDI.

Last Updated : August 19, 1997 at 10:40AM