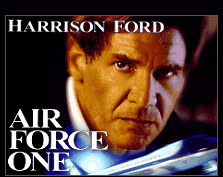 THIS WEEKEND Harrison Ford was swept into office in a landslide victory as Air Force One zoomed to the top spot with a sonic boom registering $37.1M in ticket sales. Leaving some aliens and a jungle boy in the dust, Air Force One's debut was the fourth biggest of 1997 after The Lost World, Men in Black, and Batman & Robin, and was Ford's personal best. It also cemented Sony's position as the leading studio of the summer as well as for the year. The boffo weekend performance was due not only to Ford's incredible starpower, but also to the talented costars Glenn Close and Gary Oldman, top-notch director Wolfgang Petersen (In the Line of Fire), and great reviews across the board which made Air Force One a well-rounded must-see blockbuster. With an opening like this, AFO should have no problem soaring to at least $160M domestically and possibly $400M worldwide. This is why someone like Ford is paid $20M per picture.

After a three-year drought, Harrison Ford finally has another blockbuster to his credit. His last big hit was Clear and Present Danger which opened to $20.3M during the weekend of August 3-5, 1994 and eventually grossed $122M. Danger's opening weekend accounted for 17% of its total gross and his previous blockbuster The Fugitive achieved 13% of its total gross during its debut weekend. Air Force One is a similar Ford-as-hero thriller and should have the staying power of these previous hits. Even if this weekend accounts for 23% of its final gross (remember, today's movies all have less staying power than just a few years ago) Air Force One will end its run with a powerful $161M.




Also opening this weekend was Good Burger, a kids offering from the folks at Nickelodeon, that hit its target with a very good $7.1M gross. Elsewhere, in what's sure to be good news for Disney, George of the Jungle kept swinging at the box office with a strong second frame. Declining only 20%, the Brendan Fraser picture has so far collected $48.1M in its first 12 days. Dropping from first to third was Men in Black which dipped by 35%, still impressive, and has reached $194M. After a strong second weekend, Contact took a big drop of 40% in its third frame nearing the $65M mark. Rounding out the top five was Paramount's Good Burger which opened better than my $5M projection. Air Force One's chart-topping performance was much better than my $28M guess. In their second weekends, Nothing to Lose dipped a heavy 41% while Operation Condor crashlanded as it lost 64% of its business.
Overall, the top ten films grossed $101.3M, up a mighty 50% from a year ago when the 1996 Summer Olympics were in full swing, and up 32% from 1995. Below are the actual totals for the weekend. Click on the title to jump to its official home page:
| | | | | | | |
| --- | --- | --- | --- | --- | --- | --- |
| # | Title | Jul 25 - 27 | Jul 18 - 20 | % Chg. | Weeks | Cumulative |
| | | | | | | |
| 1 | Air Force One | $ 37,132,505 | | | 1 | $ 37,132,505 |
| 2 | George of the Jungle | 13,196,237 | 16,540,791 | -20.2 | 2 | 48,082,033 |
| 3 | Men in Black | 12,350,884 | 19,029,928 | -35.1 | 4 | 194,036,790 |
| 4 | Contact | 9,704,949 | 16,114,633 | -39.8 | 3 | 64,973,014 |
| 5 | Good Burger | 7,058,333 | | | 1 | 7,058,333 |
| 6 | Nothing to Lose | 6,917,279 | 11,617,767 | -40.5 | 2 | 24,476,052 |
| 7 | Face Off | 5,603,028 | 8,911,744 | -37.1 | 5 | 96,057,237 |
| 8 | My Best Friend's Wedding | 4,512,085 | 6,522,025 | -30.8 | 6 | 103,098,341 |
| 9 | Hercules | 3,151,320 | 5,192,475 | -39.3 | 5 | 83,426,924 |
| 10 | Operation Condor | 1,693,999 | 4,731,751 | -64.2 | 2 | 8,327,922 |
| | | | | | | |
| | | | | | | |
| | | | | | | |
| | Top 5 | $ 79,442,908 | $ 72,214,863 | 10.0 | | |
| | Top 10 | 101,320,619 | 93,612,321 | 8.2 | | |
---
This column is updated three times a week : Thursday (upcoming weekend's summary), Sunday (post-weekend analysis with estimates), and Monday night (actuals). Source : Variety, EDI.

Last Updated : July 28, 1997 at 6:45PM