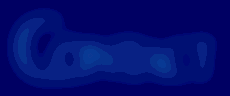 THIS WEEKEND Alien life ruled the box office as Men In Black spent a second weekend as the nation's most popular movie while Contact, starring Jodie Foster, opened strong in second place. With a $30.1M weekend take, MIB saw a drop of 41% from its holiday opening - exactly as predicted. Contact's $20.6M gross was below my forecast of $25M, however it played on over 1,000 fewer screens than MIB and its long running-time reduced the number of showings per day. Contact should be able to benefit from strong reviews and positive word-of-mouth and perform well over the coming summer weeks and reach the $100M level. The Jodie Foster film's opening gave Warner Bros. its second biggest debut weekend of 1997, after Batman & Robin's $42.9M. As for MIB, its 41% drop is normal for a huge blockbuster in its second frame. With $139.6M already in the bank, it should have no problem breaking $200M by the end of the month.

With a pitiful opening of $2.7M, A Simple Wish proved that Mara Wilson is not the next Macaulay Culkin. The family audience that it targeted voted no. Look for Wish to salvage what it can on video this Christmas. Most other movies held on well with small decreases from last weekend. Face Off, My Best Friend's Wedding and Con Air all dipped by less than 24% on their way to the $100M club. In its second weekend Out to Sea dropped a respectable 29%, while the two most hyped movies of this summer, The Lost World and Batman & Robin, were hit hard losing almost half their business.

After 17 days in wide release, Hercules has collected $66.5M which is 2% better than The Hunchback of Notre Dame's gross in as many days last summer. Warner Bros. wishes they had similar numbers for their biggest franchise as Batman & Robin's total so far after 24 days is $98.8M - an astounding 28% behind the gross for 1992's Batman Returns after the same amount of days. Returns has been the lowest-grossing Batflick thus far with $162.5M. B&R should end up with between $110-120M here but is already performing much better overseas. A worldwide gross of $300M is achievable.

Overall, the top ten movies collectively grossed $94.9M - down 7% from last year but up 13% from 1995.






| | | | | | | |
| --- | --- | --- | --- | --- | --- | --- |
| # | Title | Jul 11 - 13 | Jul 4 - 6 | % Chg. | Weeks | Cumulative |
| | | | | | | |
| 1 | Men in Black | $ 30,062,317 | $ 51,068,455 | -41.1 | 2 | $ 139,584,970 |
| 2 | Contact | 20,584,908 | | | 1 | 20,584,908 |
| 3 | Face Off | 12,332,309 | 16,067,233 | -23.2 | 3 | 71,772,555 |
| 4 | Hercules | 8,339,217 | 12,193,152 | -31.6 | 3 | 66,492,048 |
| 5 | My Best Friend's Wedding | 8,321,580 | 10,818,090 | -23.1 | 4 | 83,502,316 |
| 6 | Out to Sea | 4,155,935 | 5,887,675 | -29.4 | 2 | 14,680,413 |
| 7 | Batman & Robin | 4,085,749 | 8,027,257 | -49.1 | 4 | 98,795,842 |
| 8 | Con Air | 2,891,449 | 3,791,861 | -23.7 | 6 | 89,903,753 |
| 9 | A Simple Wish | 2,731,880 | | | 1 | 2,731,880 |
| 10 | The Lost World | 1,350,900 | 2,604,420 | -48.1 | 8 | 221,055,524 |
| | | | | | | |
| | | | | | | |
| | | | | | | |
| | Top 5 | $ 79,640,331 | $ 98,174,187 | -18.9 | | |
| | Top 10 | 94,856,244 | 113,786,409 | -16.6 | | |
---
This column is updated three times a week : Thursday (upcoming weekend's summary), Sunday (post-weekend analysis with estimates), and Monday night (actuals). Source : Variety, EDI.

Last Updated : July 14, 1997 at 11:00PM